Preparing to start in NGA Sixth Form
Each subject on offer has provided some preparation tasks to help you to get ahead before studying with us at NGA Sixth Form.
Although not compulsory, we hope they provide you with insight into the courses you may wish to take and help you to feel prepared for the next part of your educational journey.
You can also view videos on the course content and structure on the Year 11: Next Steps page in the Covid-19 Informatimn Hub section of the website.
Let us know how you get on in Teams. We'd love to hear from you!
Click on a subject button below to jump to the preparation work for that subject:
Academic Courses
| | | |
| --- | --- | --- |
| | | |
| | | |
| | | |
| | | |
Vocational Courses
Start your own journal of thoughts and sketches.​
Produce your own work. Remember Photography, Film, Textiles and Product Design all fall under FINE ART! It's not just painting and drawing!!​
Go to a Gallery. Loads of them have got Virtual Tours now!
Activity 1​
This is an example of how you would use the skill of notetaking to research and summarise how a pathogen causes disease, in this case how SARS-CoV-2 virus causes COVID-19.​

Watch the video clip on COVID-19​

Use the information in the video and your own research to create a COVID-19 Fact File. You will need to copy the table shown and answer the questions using your own words. ​

During your Applied Human Biology course you'll learn that as well as the information you find in your research, you also need to take a note of the source of that information, and the date it was accessed, so please include this information in your table.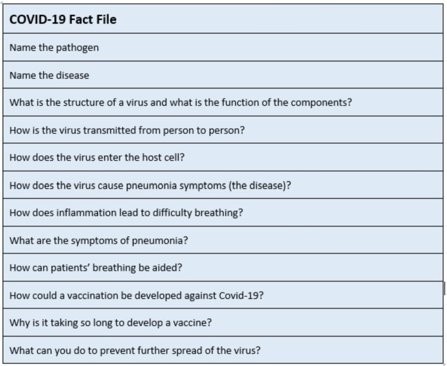 Activity 2​
Another way in which you will record your research is by creating a mind-map. Use this technique to create a mind map of cardiovascular disease. You should base your information on the WHO fact sheet and your own research.​

Use websites such as this and you should include the following:​
Types of CVDs Risk factors Common symptoms of CVD​ Interventions and treatments Exploring the role of a Public Health Practitioner​
In preparation for this task, you may like to research a career as a Public Health Care professional using the NHS Careers website. Public Health practitioners deal with all aspects of public health and will make decisions about methods for improving people's health and wellbeing.
1. Big Picture from the Welcome trust
2. Pixl transition for A Level Biology pack
3. Sign up to S-cool ​
4. Head start to A Level Biology book (if you wish to buy) 
5. OCR Biology (A) specification
 Watch business programs such as:​
Complete the following research tasks:
Further research​:
There are quite a lot of things you can do to prepare for A level Chemistry. Here are some useful links to resources online:
As well as these online resources, there will be files available in your science class on Teams – please check in the files section!
To prepare for studying this course you could watch the following documentary on YouTube about the Luton Double Murders.​
Look up the work of:​
The Prison Reform Trust​
The Howard League for Penal Reform​
Find out what this campaign was about​:
Research Bandura's social learning theory
Research F. Scott Fitzgerald, Shakespeare and many other authors at http://writersinspire.org/

Watch Francis Ford Coppola's 1974 film version of 'The Great Gatsby'​

Research and read articles on William Blake on the British Library website​

Google and read Alice Walker's moving short story, 'The Flowers.'​

Read Kathryn Stockett's novel 'The Help.'​
Watch Rory Kinnear and Adrian Lester talk about their roles in' Othello' on the National Theatre's website.​

Make a list of all the different types of love that you can think of. ​

Make a list of important historical events in Britain and America since 1945. ​
Consider the types of films you enjoy watching - can you write down your favourite ten films? It's not as easy as you think! For each film write a reason for why it is one of your favourites – and the reason cannot be 'just because!' 
Netflix – have a look at the series The Movies that Made Us. This is an interesting look at some of the most popular films ever made and how they came to be!
Creating a film idea – imagine you were to create a short film called My Bad Day. What would happen? Construct a narrative that tells the story of the Bad Day, could there be any twists and turns that the audience would not be expecting? How could you make it interesting?
This work will not just give you a head start for the A Level course but will also be invaluable for future UCAS applications (whether you are applying for a geography degree or not!)
Make sure you keep a log of what you read, watch, write and take part in and be sure to tell the department! ​
You can choose the activities which best suit your learning style, geographical interests, and time commitments:
Listen
There are some great podcasts here to pick from on a wide variety of geographical issues including climate change, carbon, urban greening, deforestation, alternative power, plastics etc
A fantastic set of podcasts to keep A Level studies up-to-date with the latest geographical research – pick out some that interest you and give them a go!
BBC podcasts exploring the trends, forces and ideas shaping the world beyond the headlines
From the BBC, these podcasts investigate global development issues and affairs.
Watch
Into the Inferno: Netflix: With stunning views of eruptions and lava flows it captures the raw power of volcanoes
Planet Earth and Planet Earth 2: Netflix:  The Irreplaceable Sir David Attenborough explores some of the world's different biomes
Dirty Money: a Netflix original television series which tells stories of corporate corruption, securities fraud and creative accounting. ... Each episode focuses on one example of corporate corruption and includes interviews with key players in each story
When the Immigrants Leave (Dispatches)​https://www.channel4.com/programmes/dispatches/on-demand/69555-001​
China's Lonely Hearts (Unreported World)​
The World's Dirtiest River (Unreported world)​​
Forests of Fear (Unreported World)​
Hurricane Hell (Unreported World)​
The World's Dirtiest Air (Unreported World)​
Read
Notes from a Small Island (Bill Bryson) New York Times bestseller Bill Bryson's hilarious journey through the beloved island nation he called home for two decades. From Downing Street to Loch Ness, this is a delightful look at the United Kingdom.
Factfulness: Ten reasons we're wrong about the world – and why things are better than you think: Hans Rosling has written what is a must-read book from a geography perspective – this takes a more realistic view of the world, presenting issues in fact -based context. It is a rational look at actually how far the world has measurably improved and what's left to be done.
The Geographical Association (The GA) has very recently produced two reading lists; one human and one physical, separated by topics to give you a feel for the people, places and issues you are studying as part of your A Level in Geography. ​
​Watch the following documentaries:​
Research tasks:
The Stuarts
The Cold War
It would be beneficial for you to complete the Bronze Badge on the iDEA.org.uk website (instructions for this have been placed in the Y11 Team).
Citizen – Internet & Web, GDPR, E-Safety, Safe Online, Social Media Set-Up, What is the Cloud?, Cyber Spies, Data Play, Cyber Security, Global Goals, eCommerce​
Worker – Internet of Things, Collaboration, Projects​
Maker – Virtual Reality​
Entrepreneur – Big Data, Social Media in Business, CRM
Have a go at the first two chapters of the C1 AS and A level book posted in Teams.​
These are bridging units to refresh your skills from GCSE and help you transfer those skills into work covered at A level.​
They cover the following units of work.​
​ Algebraic Manipulation​
Indices​

Surds​

Quadratic equations and graphs​
Unit 4 preparation
You are going to create a re-work of a well know story using a variety of art forms.​
List as many art forms as you can, e.g. rap, aerial​
Bullet point the main points of a story you know well (to someone that doesn't know it BUT keep it brief!)​
Using at least 3 of the art forms you have listed create your own version of your story. It can be as narrative or abstract as you like! You will need make notes/plans and also have a go practically at certain aspects of it (depending on what you choose).​
​Unit 1 preparation-
Do some research into different job roles in the arts e.g. director, musician, Front of House, marketing, costume designer (there are thousands, so choose lots of different ones!); find out what they do and what skills and qualifications they need. ​
Look into their job contracts, hours of work, salary and career opportunities they have. Maybe write a list of positive and negatives about their job role!​ ​
Unit 2 preparation
Think about the process of creating a performance, it could be a musical, or the school show perhaps. Create a timeline of everything that needs to happen in order for the performance to get from 'page to stage'.​
Choose a performance (it can be anything) and think about how the set, costume, stage design etc are used to enhance the performance. Each component will have been thought about in great detail!
Task ​

How this will support your transition into psychology ​

Netflix documentary: 

Three identical strangers ​

This documentary is a true story about brothers separated at birth. The documentary explores how the boys were part of a study they knew nothing about and analyses the influence of the boys biology versus their upbringing, relating to the main debate in psychology of what is more influential on a person; Nature or Nurture.​

What is Psychology?​

Watch the two crash course episodes. The first episode explores what the basis of psychology is and how the discipline came about.

The second episode explains some of the ways in which research in psychology is carried out and why.​

The origins of the discipline​

The video clip gives an overview of what psychology is, how and where it originated and developed as a discipline.

This will be particularly useful to your understanding of the aims of psychological research as well as the introductory parts of Paper 2.​

Bonus material:​
Isaac Physics: This website contains lots of maths and physics problem solving questions.​
British Physics Olympiad: This website contains lots of past papers and solutions of problem solving type questions.​
Next time: This website contains some quite fun questions designed to make you think about physical concepts.​
I want to study Engineering: This website is just as useful for all applicants not just those applying to engineering.​
Brilliant.org: This website has some resources to test your mathematical and physics knowledge.
| | |
| --- | --- |
| Task ​ | How this will support your transition to Post 16 studies​ |
| 1. Watch School of life: Karl Marx​ | Any documentaries or YouTube clips related to Marxism, communism and capitalism.​ |
| 2. Current affairs​ | You need to be trying to keep up with current affairs. Reading news articles (not just social media). It is really important to keep up with what is happening around the world if you are to be a successful passionate Sociology student.​ |
| 3.Documentaries​ | Netflix, BBC iplayer, 4OD, itvplayer etc. All of these have very good relevant documentaries to watch. E.g. Stacey Dooley (any), Louis Theroux (any), 24 hours in police custody, Time: Kalief Browder story, Killer inside: The mind of Aaron Hernandez ​ |
There is much you can do to prepare for A level Spanish. Here are some suggestions.​
Read about the Spanish speaking world in English or Spanish so you have some insight into the culture of each country.​
Watch Spanish films/programmes so you can develop your vocabulary and your ear for language​
Read short news articles (in Spanish) on line ​
Review your grammar and ensure you have a secure understanding of the grammar you studied for GCSE.
In order to ensure you are prepared for the course it would be advised to do the following reading and research:​
​ Anatomy and physiology for sport​

Coaching / sports leadership: how to lead and plan for progress​

Legislation relating to sports activities and leading sport​
Any further reading on local and national sporting events, provisions will help in your understanding of sport in general. ​
​Watching sports matches, events and news is often a good tool in order to further your understanding of the world of sport.