Citizens UK


September 2020
We are proud as a school to be members of Nottingham Citizens (the local chapter of UK charity Citizens UK). We believe that as part of the local alliance we can work with others in our community and city to bring positive social change. The values of Community organising with Citizens UK:
Relational, Integrity, Kindness, Solidarity, Courage and Inclusion
Help us live out our school values and children learn about democracy by participating in our civil society alliance. With over 30 other city-wide institutions, we are committed to working in a broad alliance for justice and the common good. People working on our shared action teams and on local neighbourhood organising are leaders within those organisations, the majority of whom have benefited from community leadership training and have been involved in organising in this way for a number of years. The current city work streams are around Good Work and Wages, Mental Health and on Structural Racism. Other members are working on local neighbourhood issues.
"The skill that tops the others is experience, because the entirety of Citizen's training can give you wisdom for the future. I'm proud of using my voice for the right reasons and speaking with meaning to help other people and I'm proud of being a part of such an influential organisation" Y11 Student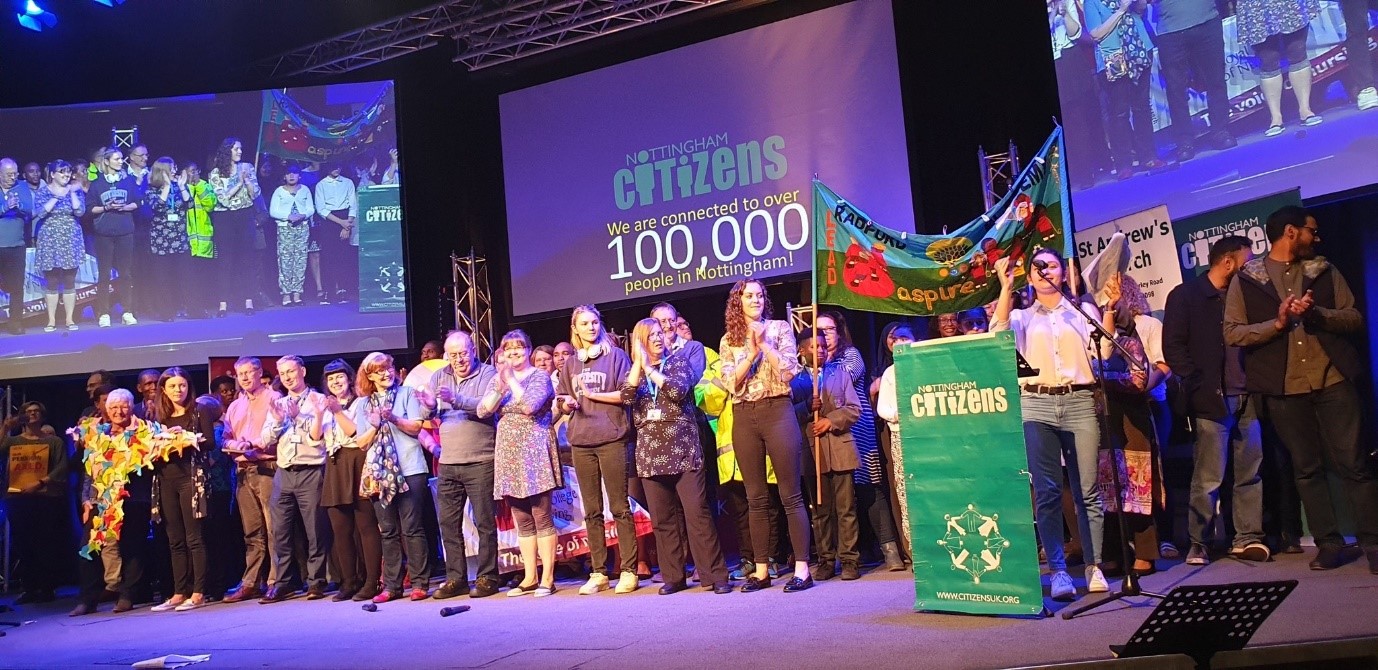 You can find out more about our alliance here: Nottingham Citizens - Who we are (4min video)
And about how Community Organising has an impact here: What is Community Organising? (4min video)
As members of our school community, parents and family members can get involved too. Please contact rgangneux@nottinghamgirlsacademy.org if you would like to know more.
Citizens UK and Equality work
Written by Judaea, Sanaa and Amira
Hello! This page is about our work that NGA have produced alongside Nottingham Citizens and we are proud to be a member institution of them. Nottingham Citizens is a non-partisan alliance of over 30 civil society institutions comprised of faith groups, charities, trade unions, schools and universities, all working together to make Nottingham a better place to live. They organise communities to act together for social justice and the common good, developing the leadership capacity of their members so they can hold our cities' decision-makers to account on the issues that matter to them. Here is a video from them if you'd like to find out more about who they are and what they do https://www.youtube.com/watch?v=WRe2_50NVx8&feature=emb_title.
During this summer, we took part in the Citizens Summer School challenge, where we had 2-3 sessions per week. We had weekly check-ins which were on Thursdays that lasted for an hour; the weekly check-ins happened from 16 July to the end of August. The check-ins were where group 1 and 2 would come together as one whole group and discuss what we had learned and what we had done so far. Towards the end of these check-in weeks, we also had leadership skills because we created the agenda ourselves and even led these check-ins by ourselves. On Friday and Saturday, depending on what cohort group we were in, we had sessions for 2 hours. This went on for five weeks and in these Friday or Saturday sessions, we got trained on how to be an effective leader which is key to being a good community organiser. We covered sessions on relational power, self-interest, leadership and taking action. Everyone had several hours that we had to log into, to put our learning into practise such as having 1 to 1s with people, working on projects with the Citizens and extra work we have been doing around this. The maximum hours we had to fulfil were 20 hours but all of us did exceptionally well and did more than what was expected. In addition to this, we met community organisers from across the UK that helped us develop upon and learn more skills. We had over 30 students from 17 schools from across the county that were on this same boat as us.
Over the summer period we listened to over 300 people via Zoom in response to the tragic death of George Floyd. We heard stories, testimonies and experiences of people subject to racist systems, structures/organisations and racist behaviours.
We then began to narrow down and focus on two broad themes that emerged unanimously. These were: 1. The police and their response to young people, stop and search, scrutiny of the police, and 2. Education and, within this, the curriculum being taught to children, especially history teaching, and who makes decisions. Finally, diversity of books in our schools and libraries.
From our work back in the summer we launched a structural racism team and on 8 August, we, the team members, and about 80 other people gathered in St. Ann's on the site of the 1958 riots to publicly share stories and testimonies. We began to hold the Police and Crime Commissioner as well as the Local Authority of education to account and made them make some commitments on working alongside with us.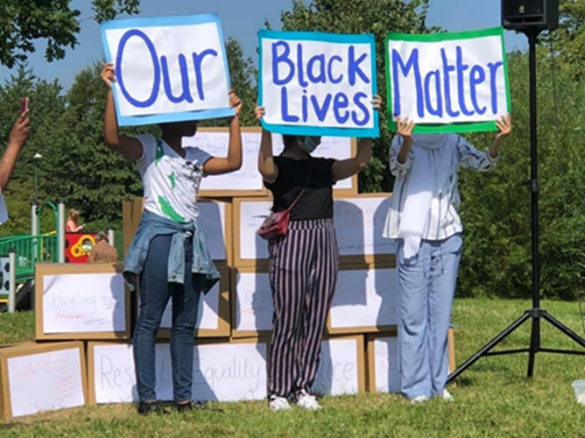 Here is a poem that Judaea wrote by herself and read out on this public action day.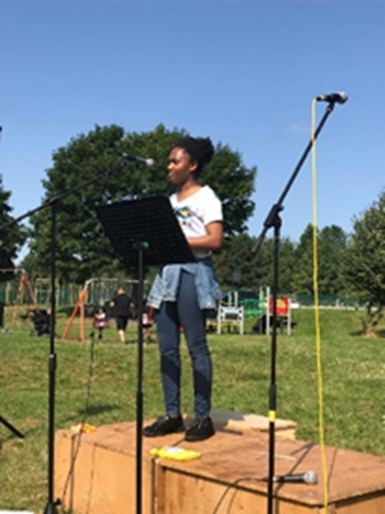 Imagine a World Poem
Imagine a world where you're told you're weak.
Imagine a world where you have to work harder and be better than those around you.
Imagine a world with no colour and everything is in black and white.
Imagine a world where the different colours of the rainbow don't exist.
Where you're crying and no one seems to notice,
Or where you're bleeding and told to remain strong,
Or where you're suffocating and told to remain silent.
Feel every bullet as they tear through you,
Feel every ounce of life stolen from you as your oxygen seems to escape you and every fibre of your being.
But others don't seem to believe the believable,
They don't seem to witness the terrible.
All they seem to see your character in a colourless world.
All your pain, agony, suffering, is all blurred.
White, purity, holiness, innocence, limitless.
Black, misery, shamefulness, sinfulness, limited.
I remember the days I loved each colour as they danced along the white pages of my beloved books,
My joy, my childhood, my life society took.
I'm told it's all fake, that it's all in my head.
I know I'm right, but I'd rather believe a lie instead.
As I watch those with an unfair advantage squash my hopes, crush my dreams,
I put in more effort, progress slower, it's exactly what it seems.
I choke as I watch another life battered before my bare eyes,
I cry, I scream, I holler as I ask myself 'why'.
Attempting to empathise with me about how I live every day,
So that they turn around, benefit from my skill…but it's okay.
I've been taught how to be strong and to pick myself back up again,
I sit patiently hoping for change, but not sure when.
Black, sable, jade, ebony,
Brown, maroon, hickory, coffee.
Colours of my crayon box snapped, tossed across the room,
For them to be abused when convenient and the ongoing cycle resumes.
Imagine a future where you're not judged for colour, but judged for content.
Imagine no matter how much we whisper or roar; nothing's different.
Imagine a world where you just can't fit in,
Imagine those snapped disregarded colours mutate into your flesh, your skin.
Imagine a life where you don't need to be defensive or sensitive,
Imagine a history that isn't repetitive.
Further to this Judaea has published her very own book called 'My Box of Crayons'. This is about a girl who is forced to live in a separate world than what she is used to, and this book directly correlates to the poem. Please head to Amazon and order your very own copy now.
https://www.amazon.co.uk/My-Box-Crayons-complexities-self-acceptance/dp/0998870765/ref=sr_1_1?dchild=1&keywords=judaea+williams&qid=1606122218&s=books&sr=1-1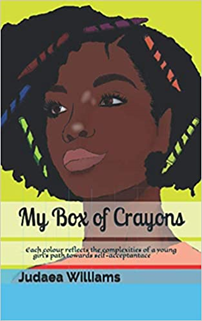 Sanaa shared her "frustrations and hopes on wanting to see a fairer society where noone is prejudiced against or judged just because of the colour of their skin." She wrote a speech on how we need to have a diverse curriculum and have more events in different schools across the nation that celebrate different cultures such as come in your cultural clothing day and many more.
"My name is Sanaa and my school is a member of Nottingham Citizens, I want to share my hope for our education and our futures.
Firstly: You cannot be what you cannot see
The sky is the limit and no barriers such as backgrounds should stop me or my friends from applying to jobs, we are interested in. I shouldn't be worried that colour is a disadvantage to me! So, I stand here and am asking of you what exactly are we doing to make sure our recruitment is good? Are people like me encouraged to consider different professions? I ask of you where are the black leaders, Principals, CEOs of our schools and businesses?
I'm angry when I hear an employer who says, quoted word to word, how they in her workplace "don't promote BAME staff at the same rate as white men. We don't offer them the same opportunities as their white colleagues." What hope can I have?
So, I'm asking, as a young person about to start out on a career, why is it that when discussing diversity on boards and in workplaces there seems to be huge denials of the problem even existing, let alone a reluctance to discuss what changes could be made and implemented.
This has to be better. We have talent but not the same opportunity.
Secondly, you cannot learn if you are not taught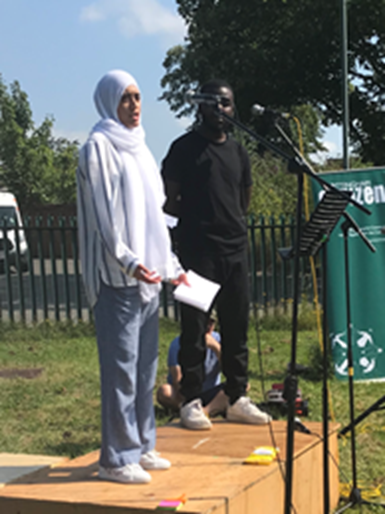 What is our curriculum? I want to see more BAME book stock across schools and reading places such as the library. We have already pressed the Public Library Services about this but it needs commitments and action to make this happen.
I want to see assemblies across schools being presented more often about different people from different ethnicities. We do not want to be a burden for future generations to come, I do not want them to have to have the same fight - repeating the exact thing that failed us. Texts books that haven't changed, with the same faces and names printed in every "new" page. We all know Henry the 8th but what about Sir Leary Constantine? It's not enough that we learn about the slave trade, then move on leaving black history there. Learning about the negatives of them, what about the positives? There seems to be a lack of emphasis on black history.
Celebrating diverse history should be a constant thing in our schools, celebrating and learning more about their culture when the calendar marks special days such as Black History Month, Chinese New Year, Christmas, Eid, Diwali and many more occasions. A one knock off lesson about this simply isn't enough!
We need to include diverse history to our curriculum on how the Black, Asian and people from Minority Ethnic groups helped to make a change, yet they remain unheard and unseen, people like Sarah Forbes Bonnetta, Ignatius Sancho and many more significant people today, like these. We want to learn about their story, struggles and solutions. Too long absent from our textbooks made for our teens.
Finally, we're here to make a change. If not now, when?
I want to leave you all with a message of hope from action. As a young person that's speaking right now and on behalf of my team members from Nottingham Citizens, we want to make the education and curriculum fairer to all, backgrounds, ethnicity and races. We need to bring a change to our generation and that starts by inspiring young minds to help build each other, support each other through the toughest of times. Especially after the tragedy of George Floyd. A reminder of the thousands of police brutality victims
We want to create new history, our history, I'm sure you can all agree with me on this. All of us here have something in common no matter what our religion, age or gender may be, which is that one of the things we'd like to see happen is change happening in the school curriculum.
Thank you all for taking your time to listen. Together we STAND united. Together WE WILL make a difference and shape a new future!"
In recent progress, we have bought a list of books from BAME authors for our library in school to make it more diverse and which will somewhat help in providing our students with books they can read and learn from about their fellow peers.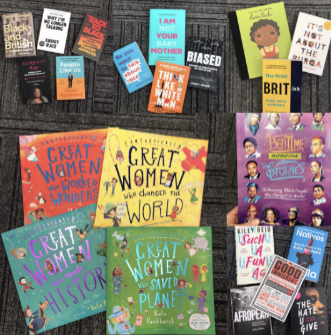 Mrs. Turner-Ramadan, alongside other students, are kindly putting together an Equality display board about the importance of black lives matter, black role models that we can all look up to and take inspiration off and the 9 protected characteristics of The Equality Act.
We have pledged to continue working on these issues that affect our community and we are looking forward to making and seeing some more changes happen. Because at Nottingham Girls' Academy we believe we are all a big family, and no-one should be left behind because of their differences. These differences are what makes us unique, special and stand out from the crowd. We will continue to 'Strive. Improve. Enjoy.'
Thank you for taking your time in reading this section of the website. If you want to get involved, please email curriculumequality@nottinghamgirlsacademy.org.