BUILD Behaviour System
Rewards and Recognition - BUILD Points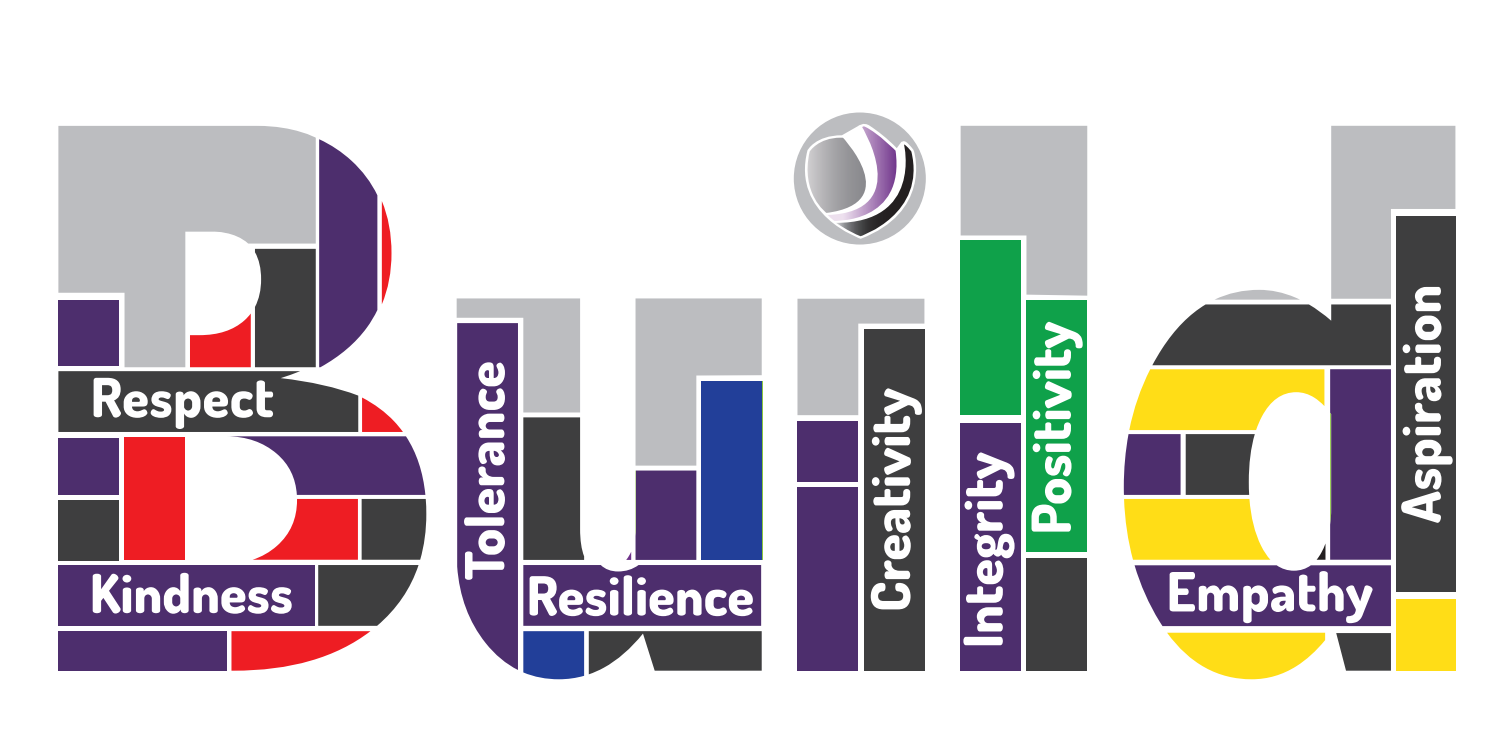 In all classrooms we aim for praise to outweigh consequences. Teachers should aim for a 80/20 ratio. We need to concentrate on positive aspects of behaviour.
Although qualifications form an incredibly important part of what we do, we also know it is important for our pupils to develop certain qualities or characteristics.
There are nine qualities that we explicitly focus on developing through our 'BUILD' programme. Opportunities to develop these qualities are embedded into our curriculum. When pupils demonstrate that they are developing any one of these qualities, this is recognised by awarding a 'BUILD' point.
Praise and recognition are vital in helping us raise our pupils' self-esteem and confidence. Rewarding pupils when they meet significant milestones in the number of BUILD points awarded helps encourage positive behaviours and create the safe, kind, nurturing and inclusive environment we value.
Rewards and recognition of pupils' accomplishments are offered through:
Verbal praise given by teachers at any possible opportunity.
Postcards or letters of achievement sent home.
Pastoral recognition: star of the week, 10/10, year group bingo, worker of the week and social media recognition.
Awarding of a BUILD point.
Bronze certificate for 325 BUILD points.
Silver certificate 575 points.
Gold certificate 1,000 points.
Platinum certificate 1,200 points.
Autumn Term reward for top 10% of each year group – movie afternoon.
Spring Term reward for top 10% of each year group – Easter egg hunt.
Summer Term rewards for top 10% of each year group – end of year trip, BUILD Bonanza.
Platinum reward trip – to be decided by the students.
Students with no negatives and 100% attendance have an additional time slot at the BUILD Bonanza, a picnic and a letter home from the Principal.
Articles in the Academy's newsletter giving details of participation and achievements.
Awards of trophies for success in competitive House sports events and other events.
End-of-term celebration assemblies. Used to give out certificates gained for various reasons from subject teachers and the pastoral team; outstanding effort, participation, attendance or achievement.
End of year vouchers for DHOY award, HOY award and SLT award per year group.
Attendance randomiser per year group - Intu vouchers.
Residential trips, various opportunities for each year group 7-10, with attendance and good behaviour being pre-requisite of attendance.
Ceremony of Awards evening to be held each September.
Managing Negative Behaviour in the Classroom - Negative Behaviour Points
If a pupil fails to meet expectations in the classroom, a range of strategies and sanctions are available to staff with which to reinforce those expectations. The list of these below is not intended as a hierarchy to be followed in order, nor is it an exhaustive list. Every situation and pupil is different and some strategies on the list may not be appropriate to the situation or pupil; teachers will use their professional judgement to respond to negative behaviours and attitudes, reinforce expectations and re-engage pupils in learning.
A quiet word or private discussion with the pupil to highlight the issue and agree what needs to happen for things to improve.
Use of various de-escalation strategies: deliberate ignoring; distraction; body language; non-verbal cues; humour; change of teaching style; relocation; intervention.
Issuing negative behaviour points – for a description of all behaviours that can be awarded or issues see Appendix 1.

Late to Lesson (-1 point) – up to a 10-minute detention should be carried out.
No Homework (-1 point) – an optional detention issued by the teacher.
Lack of equipment (-1 point) – an optional detention issued by the teacher.
No Kit (-1 point) – an optional detention issued by the teacher.
D1 (-1 point) – final warning for repeated disruption to learning.
D2 (-2 points) – continued disruption following a D1. A 10-minute restorative conversation with the teacher at the next available time (break, lunch or after school) must be carried out.
D3 'On-Call' (-4 points) – continued disruption following a D2. The pupil will be removed from the classroom by the member of staff 'on-call' for that period. They will use their judgement to determine whether the pupil can be re-integrated into the lesson or whether they will be removed for the remainder of the period. A 20-minute restorative conversation with the teacher and their HoF must be carried out after school.
Instant 10-minute detention (-2 points) – for instances of negative behaviour outside the scope of D1, D2 and D3.
Instant on-call (-4 points) – for serious incidents that require an immediate response. These will usually be followed up by SLT.
Truanting (-2 points) – faculty detention to be carried out to catch up with work from the missed lesson.

Contacting parents/carers - following persistent D1, D2 or D3s in that subject. This initially is done through the 'live feed' on their parent apps. If the behaviour continues, then communication may be done via phone call, letter, SMS or email.
Placing a pupil on Faculty Report (see below).
Faculty Isolation (for an agreed fixed number of up to 3 lessons within that subject, communicated with home).
Parent meeting with teacher and/or HOF.
Referral to pastoral team for additional support.
Restorative Conversations and Detentions
These are intended to allow the pupil and the member of staff to have a reflective conversation so that they can repair and resolve the issue - helping both parties to move forward – or to catch up with missed learning time.
If pupils do not attend the scheduled restorative conversations or detentions, this action will be upscaled with a detention doubled in length each time. The reflection sheet in Appendix 2 can be used to support Restorative Conversations.