Dragon Hunts at NGA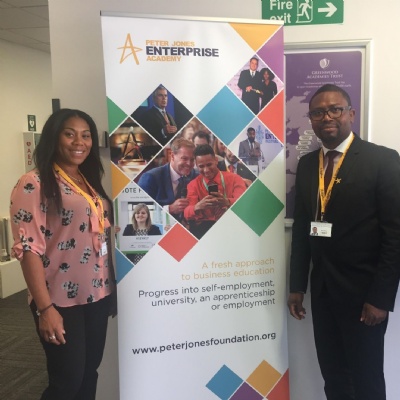 DRAGON HUNTS FOR THE NEXT GENERATION OF BUSINESS LEADERS IN NOTTINGHAM.
THE BRAND NEW PETER JONES ENTERPRISE ACADEMY AT NOTTINGHAM GIRLS' ACADEMY IS ENCOURAGING BUSINESS LEADERS OF TOMORROW TO CHOOSE THEIR PATH AND LIVE THEIR DREAMS
Nottingham, 7 September 2018 – Applications are now open for the first ever intake of students for the city's Peter Jones Enterprise Academy. Nottingham Girls' Academy has kicked off its search to find the business leaders of tomorrow who want to take control of their own futures.
The Academy equips young people with the practical skills and experience needed to excel in the working world through its tailored courses, developed by star of Dragons' Den, Peter Jones CBE, in partnership with Pearson (Edexcel), the UK's largest educational awarding body.
Whether students are aspiring entrepreneurs, ready to make their mark within a growing business, or wanting to continue in education, the Peter Jones Enterprise Academy puts them on the fast track to success, helping them to become the most successful version of themselves, whatever path they choose.
Young women aged 16-19 can enrol for the Peter Jones Enterprise Academy, where the business-led courses have a mission to unleash young people's entrepreneurial talent by giving them the opportunity to 'learn by doing'. Students on the course are given the unique opportunity to learn first-hand the essential skills needed for the world of work.
The Peter Jones Enterprise Academy @ Nottingham Girls' Academy will act as a hub of outstanding enterprise provision, where students receive pioneering support to start businesses and achieve globally recognised qualifications in business, enterprise and entrepreneurship.
Peter Jones CBE commented: "I'm absolutely delighted to announce today this opportunity for Nottingham Girls' Academy to host a Peter Jones Enterprise Academy, and to help young people across Nottingham develop the real-world business skills that will help them succeed in life.
"I believe all young people deserve a bright future and I started the Foundation with a clear goal – to improve young people's lives. Good enterprise education is an essential element of this and should be part of all schools. We already run a number of successful enterprise programmes and offer high-quality qualifications, helping students fulfil their potential through a range of pioneering educational activities that encourage, educate and empower students, at all times championing enterprise.
"Now we are building on the success of our work to date and expanding our charitable provision by working in partnership with leading education providers through the Peter Jones Enterprise Academy Programme. Today's launch of the Peter Jones Enterprise Academy @ Nottingham Girls' Academy will further help us create the next generation of business leaders, entrepreneurs and young people with the skills to succeed in the world of work."
David Tungate, Principal, Nottingham Girls' Academy said: "We are extremely excited to be able to offer the young women of Nottingham the opportunity to join the Peter Jones Enterprise Academy.
"This diverse and 'hands-on' course which gives young people the experience, skills and knowledge needed to build long, successful careers and will be a fantastic addition to our curriculum."
To find out more about applying for a place in Nottingham Girls' Academy Sixth Form, visit here or call the Academy on 0115 7483410.
About the Peter Jones Foundation
The Peter Jones Foundation exists to improve the socio-economic outcomes for young people by equipping them with enterprise skills that will improve their life chances, whatever path they choose. We do this through encouraging, educating and empowering the young people we serve.
The Peter Jones Foundation was founded in 2005 by successful entrepreneur and star of Dragons' Den, Peter Jones CBE. We believe that with the right mix of support and opportunity, every young person has the potential to achieve great things and the right to a brighter future.
To achieve this we structure our activities through two charity divisions, the Foundation for Enterprise (FFE) and the Foundation for Children (FFC). The FFE delivers a suite of world-class enterprise education initiatives and the FFC philanthropically supports some of the most disadvantaged young people within the UK and across the world.
About the Peter Jones Enterprise Academy
The Peter Jones Enterprise Academy (PJEA) is the Peter Jones Foundation's flagship programme for schools and colleges, where colleges and schools can host and run their own Enterprise Academy and have full access to our resources, competitions and employer links. The Academy also run standalone qualifications that are available at Level 2 and 3.
All of the pioneering courses have been developed in conjunction with education and industry experts and include a Pearson (Edexcel) BTEC qualification, as well as an exciting set of Flash Challenges. The courses ensure that students not only achieve an accredited qualification, but also the necessary experience and skills that are vital to progress to university, gain employment or to run their own business. Through running one of our programmes, centres have access to our exclusive schemes of work, lesson plans, and PowerPoints for the course they are delivering and associated marketing materials.
Most of the courses include our Tycoon competition and students will have the opportunity to borrow up to £50 to support the delivery of the programme which maps on to their qualification, culminating with the chance of winning £5,000.
For more information visit: www.peterjonesfoundation.org
Twitter: @pjfoundation
Instagram: PeterJonesFoundation