NGA Girls Win MOBIE Competition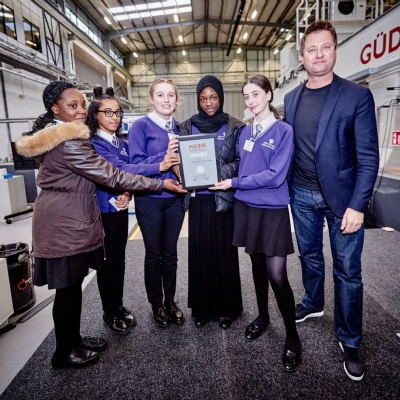 NGA wins MOBIE + MTC Design competition
Teams from across the country were set the challenge to design innovative key worker homes for a school in the East Midlands. The teams were encouraged to imagine new methods of construction, innovative materials and techniques, as well as wellbeing and the environment.
Four teams of our girls worked on their own, very different, designs and their own 'company' names with no adult assistance. On 16th March three of the MOBIE top staff came to judge which designs would be presented at the final at the Manufacturing Technology Centre in Coventry on 22nd March as part of the Rethinking Construction Conference. Over 100 key stakeholders in the UK construction and infrastructure sector from industry, government, academia and research, came together at the Manufacturing Technology Centre in Coventry to get an insight into the future of construction and infrastructure in the UK.
All of our teams presented brilliantly and all their designs were described as ground-breaking. Each team that made it to Coventry received a prize and certificate with runners up and winners for each centre.
The winning design, Hexohomes, was described by one of the judges (TV architect George Clarke) as one of the most innovative and important modular building designs MOBIE had ever seen. He said "Professor Stephen Hawking said, 'the future of the human race lies off planet', and we may have just seen the house that will take us there"!
Congratulations to all the students and staff involved.
For more details, click here.