Nowruz
What is Nowruz?
Nowruz (also called Novruz, Navruz, Nooruz, Nevruz, Nauryz depending upon country) is an UN-recognised New Year holiday that marks the Spring Equinox. It is celebrated by hundreds of millions of diverse communities around the world. Much like the spring holiday of other cultures, Nowruz is an eco-friendly holiday which champions unity, peace and solidarity between generations, growth, and renewal.


When is Nowruz?
In 2023, Nowruz, (Novruz, Navruz, Nooruz, Nevruz, Nauryz) took place on Sunday the 20 March.
Why do people celebrate Nowruz?
Nowruz is the first day of the first month, and features in the Iranian and Persian calendars, amongst many others.
It signals the start of spring in the Northern Hemisphere.
Nowruz has been celebrated by people of different faiths for over 3000 years

How do people celebrate Nowruz?
For several weeks leading up to Nowruz, families get to work cleaning their homes from top to bottom.
Decluttering homes and getting rid of dirt means they are ready to start afresh in the new year.
A bonfire is lit the evening before the Persian New Year, and fireworks and firecrackers are set off.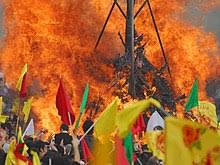 It is traditional to sing the words, "my yellow is yours, your red is mine," into the fire, to replace problems and illness with health and energy for the new year.
The evening before Nowruz begins, children knock on neighbours' doors, noisily banging pans with spoons and neighbours then give them pastries, sweets or nuts.
On the thirteenth day, it is considered bad luck to stay inside, so families head out to the countryside, parks or cities to spend the day outdoors.
At NGA we will have several displays and posters around the school to highlight to pupils this festive celebration.