FREE Nottingham Forest Activity Club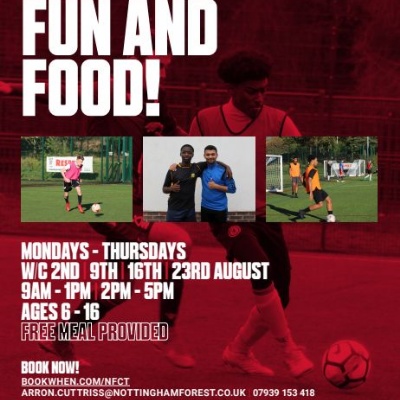 For pupils aged 6-16. FREE MEAL each day
Nottingham Girls' Academy is hosting a Nottingham Forest Summer Activity club this summer.
Week Beginning: 2nd August, 9th August, 16th August and 23rd August.
Sessions run on Mondays-Thursday from 9am-1pm and 2pm-5pm.
All pupils who attend will receive a FREE MEAL each day.
To book please visit bookwhen.com/nfct
NGA Year 6 Transition Summer School
PLEASE NOTE: The Nottingham Forest Activity Club is a different opportunity to the FREE Year 6 Summer School we are running this summer.
Pupils in Year 6 that are joining us in September should attend the onsite Summer School for the weeks beginning 2nd August and 9th August.
If they would like to, they can then attend the Nottingham Forest school for the weeks beginning 16th August and 23rd August.