Temporary Operating Practices
These are effective from Monday 11 January 2021 onwards
Covid-19 Symptoms
Anyone displaying any of the symptoms of Covid-19 MUST NOT come on to the school site.
They must self-isolate at home and arrange a test.
Site opening hours
The site will be open from 7.45am to 3.45pm each day.
Pupils that should be attending or are welcome to attend
Vulnerable Pupils (including all pupils in the Alternative Curriculum Group) should attend.
Parents and carers of these pupils were all contacted on Monday 4 January and Tuesday 5 January 2021.
If they do not attend, their absence will be recorded as 'condoned' (C code) and someone from the school safeguarding team will be in periodic contact to check on their wellbeing.
Children of Critical Workers are welcome to attend.
However, it should be remembered that the reason for school closures and the national lockdown is to reduce the transmission of the virus by reducing everyone's social contacts. The provision in schools for Critical Worker's children is to allow Critical Workers to do their critical work. It is not to supervise children just because they might work better at school (because would be true for all pupils) when they could actually work from home. Critical Workers MUST only register for this provision if they absolutely require it.
To help with capacity planning, Critical Workers are asked to register on a weekly basis for provision for their children. They need to complete the online registration form no later than midday on the Friday of each week prior to provision being required.
Instructions for pupils attending onsite provision
Arrival
Pupils must arrive between 8.30am and 8.45 am for registration and a prompt 9am start to lessons.
They should enter site by the main pedestrian entrance (Gate A) and head to the appropriate outside zone for their year group: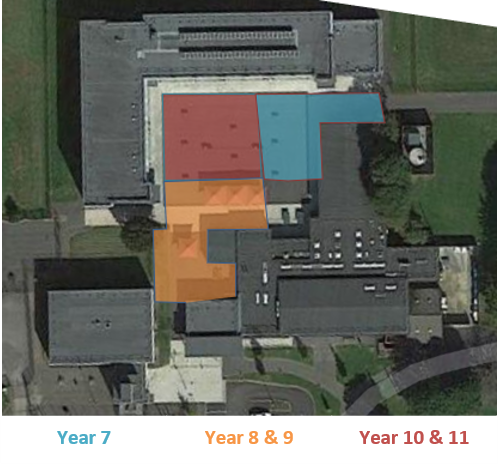 Any students arriving after 8.45am will ned to use the intercom to gain access to the site.
Departure
Pupils will depart from school at 3.15pm from the pedestrian exit.
They must not loiter or wait fro friends, but depart immediately.
If hey are being collected by parents in vehicles, we ask that the parent remains in their vehicle rather than congregating around the gate.
Alternative Curriculum Group
Pupils in the Alternative Curriculum Group have different working hours of 9.30am to 2.30pm.
Uniform
School uniform is not required.
Hands. Face. Space.
Whilst on the school site, face coverings must be worn, social distancing rules followed and hands washed/sanitised frequently (as a minimum this must include when pupils arrive on site, enter buildings or classrooms, have used the toilet, and before and after they eat.)
Pupils will be provided with sanitising wipes to clean keyboards and mice before and after use.
For each classroom, a seating plan will be recorded on the first day of the week and pupils will have to remain in these places throughout the week.
Lunch Time
During tutor time, pupils can order a sandwich or jacket potato with filling, a dessert and a bottle of water for lunch time. Pupils eligible for FSM will receive this free of charge. Each pupil that needs to will place their lunch order during tutor time each morning using our online form.
The pupils from each room will be escorted to the dining room, one group at a time with pupils from the alternative curriculum group having their lunch during the end of P3.
Pupils will sanitise their hands and then line up using the social distancing markers. Once they have collected their food they will make their way to the seating in the gym. Pupils from each year group will be allocated a separate area of the gym to sit in.
Equipment Required
Pupils should bring headphones as they will be using school PCs to access the same online lessons as their peers.
They should also bring exercise books fr the lessons they have that day and suitable stationary to write and work with (pen, pencil, ruler, rubber, sharpener, calculator)
Timings of the Day
From Monday 11 January, the timings of the school day will be:
| | |
| --- | --- |
| 8.30am – 8.45am | Arrive on site |
| 8.45am – 9.00am | Registration |
| 9.00am – 10.00am | Period 1 |
| 10.00am – 11.00am | Period 2 |
| 11.00am – 11.15am | Break |
| 11.15am – 12.15pm | Period 3 |
| 12.15pm – 1.15pm | Lunch |
| 1.15pm – 2.15pm | Period 4 |
| 2.15pm – 3.15pm | Period 5 |
| 3.15pm | Depart from school |
Instructions for pupils NOT attending onsite provision
Pupils not attending on-site provision are expected to engage with online learning.
This will be provided in the form of live lessons over Teams that follow their usual timetable.
From Monday 11 January the timing of lessons for all pupils will be:
| | |
| --- | --- |
| 9.00am – 10.00am | Period 1 |
| 10.00am – 11.00am | Period 2 |
| 11.00am – 11.15am | Break |
| 11.15am – 12.15pm | Period 3 |
| 12.15pm – 1.15pm | Lunch |
| 1.15pm – 2.15pm | Period 4 |
| 2.15pm – 3.15pm | Period 5 |
Pupils attendance will be recorded using ClassCharts and pastoral teams will contact parents of pupils not engaging.
If there are any barriers to a pupil engaging with online learning, these should be communicated to the relevant pastoral team to see if the school can resolve the issue. There are a number of ways the academy is trying to do this:

DfE Laptops and Capital One ChromeBooks: Over 300 devices have already been loaned or given to pupils. Another 115 are being distributed from w/b 11 January.
Data: Pupils without adequate access to data at home have been supplied with Data SIM Cards (provided free by Vodafone) and we can now request DfE data dongles.
Increasing Mobile Data: Some mobile network providers are temporarily increasing data allowances for mobile devices. Schools need to request the mobile data increase on behalf of pupils and will write to parents in order to collect the data required to do this.

Pupils eligible for FSM will receive electronic supermarket vouchers.
Contacting the academy
If parents need to contact the school they can do so in the following ways:

Via the school website Questions page.
By emailing admin@nottinghamgirlsacademy.org.
By calling the academy on 0115 7483410 where they will be able to leave a voicemail. Voicemails are regularly accessed by the academy's admin team who will respond or direct the message to the correct recipient.

The Covid-19 Information Hub on the website will be regularly updated with key information.
Instructions for staff attending onsite provision
We anticipate we will require two PC rooms for onsite provision.
Rooms will be set up so that pupils are well distanced from each other (additional chairs will be removed) either sat side-by-side or back-to-back:

A57 will be for Year 7 pupils.
A53 will be for pupils from Year 8 and 9.
A49 will be for pupils from Year 10 and 11.

Pupils must sanitise their hands on entering the classroom and be given a sanitising wipe to clean their keyboard and mouse.
Pupils must adhere to the seating plan recorded at the start of each week.
Pupils must be registered, and the names sent to the Education Welfare Officer (W Chapman) no later than 9.00am.
Pupils will be reminded to complete the Onsite Lunch Provision ordering form accessed via the Covid-19 Information Hub on the website.
First Aid
They will always be a minimum of one qualified first-aider on site. They will be based in the EWO office.
If a first aider is required, then they should be radioed by the member of SLT on duty.
They will follow the usual Covid-19 procedures (including the wearing and disposal of PPE) for dealing with first aid incidents as laid out in V2.5 of the NGA Operating Procedures, logging the incident using the online first aid form.
Staffing rota for onsite provision

Emergency Evacuation Procedures
In the event of an emergency evacuation the alarm will sound.
Pupils and staff should leave the building via the nearest safe exit and line up in the main courtyard at socially distanced intervals.
The SLT on site will register pupils and staff to ensure everyone is present and accounted for.
Site staff will confirm if and when the building is safe to re-enter before switching off the alarm and informing the Lead member of SLT.
Pupils will be informed of these procedures at the start of each week of provision by the members of SLT supervising the provision.
Staff Absence
If a member of staff from the onsite provision rota is unable to attend through illness, they should inform the Principal and Cover Manager (K Ashurst) by 7.30am of the day of absence so cover can be arranged. Cover will be provided by other members of SLT, the SEND team (for the Alternative Curriculum Group) or other staff from the first aid rota team (in the event of a first aider being absent).
If a member of staff providing online provision is unable to work due to illness, they should contact the Cover Manager ( K Ashurst) and the line manager by 7.30am on the day of absence. Heads of Faculty are expected to have plans in place to provide online learning for colleagues that are too ill to teach (and also in the event that they themselves are too ill to teach or set cover work).
Leave of Absence requests for all staff should continue in the usual way.
If there are insufficient members of staff, first aiders or site staff to operate the site safely the site may need to temporarily close to all pupils.
Cleaning
Nottingham City Council will provide a rota of cleaning staff throughout the day (instead of all cleaning staff attending at the end of the school day). As well as providing the frequent cleaning required for toilet areas, high contact areas and the dining room, they will deep clean classrooms.
Areas out of Bounds
Classrooms not being used for onsite provision or examinations will be out of bounds.
A notice will be placed on each room to record any visits to the room and site staff and the lead member of SLT on site must be informed.
Staff visiting site
NGA staff not on the onsite provision rota may visit the site should they need to, but this must be done without disruption to online learning provision and with the prior consent of the Principal so that it can be agreed which rooms they will visit and site and cleaning staff can be alerted.
Other visitors to site
Other visitors (including parents) will NOT be allowed on the academy site without the prior consent of the Principal. They will be required to read and abide by these Temporary Operating Practices, V2.5 of the NGA Operating Procedures and the associated Risk Assessment.